Convention and Visitors Bureau
St. Cloud Area Convention and Visitors Bureau - 30 Sixth Avenue South, St. Cloud, MN 56301, (320) 251-2940, (800) 264-2940, FAX (320) 251-0081. St. Cloud and the Central Lakes is one of the fastest growing areas in Minnesota and you can't believe what they have in store for you! World-class gardens, the Mighty Mississippi, fabulous festivals, scenic lakes, and a booming economy---it just doesn't get much better than this! Their arts and entertainment are top-notch, the accommodations and places to eat are outstanding, and recreational opportunities seem endless.
Courthouse, Administrative Offices & County Tax Assessor
Benton County Administrative and Human Services Office - 531 Dewey Street, P.O. Box 189, Foley, MN 56329-0129, (320) 968-5000. The hearing-impaired phone number is (320) 968-8842, the main fax phone number is (320) 968-5329. The Benton County Court Facilities are open from 8:00 a.m. to 4:30 p.m.. The address is 615 Highway 23, Foley, MN 56329. Tax Assessor's Office phone number is (320) 968-5019. Link leading to Benton County, MN County department listings.
Education
Foley Public Schools - The Independent School District No. 5 is comprised of the Foley Elementary School (PK-04), Foley Intermediate School (05-08), Foley High School (09-12), Foley Alternative Learning Center and the Foley Early Childhood Family Education Program. District Office: 840 Norman Ave., P.O. Box 297, Foley, MN 56329 (320) 968-7175.

Sauk Rapids-Rice Public Schools - District #47 covers the southwest corner of the county. Sauk Rapids and Rice both lay on the upper Mississippi valley, and are about 80 miles from Minneapolis/Saint Paul: Schools - Early Childhood Center (00-00), Hillside Elementary (04-05), Pleasant View Elementary (PK-03), Rice Elementary (PK-05), Sauk Rapids Middle (06-08), Sauk Rapids Senior (09-12). On WWW site: District Information Services, Activities & Events, Community Education, Early Education, Art Gallery, Alumni Pages, Drumline, and Visitor Information. District Office: P.O. Box 520, Sauk Rapids, MN 56379-0520 (612) 253-4703.

Minnesota State Academy for the Blind, Highway 298, P.O. Box 68, Faribault, MN 55021-0068, (507) 332-3226.
Family History Center (LDS)
Church of Jesus Christ of Latter-Day Saints (LDS) - 1420-29th Ave., St. Cloud, MN 56303 (320) 252-4355. Open to all, members of the Church or not; the way to access thousands of microfilms of civil, church, and other records from all over the world. Call first, to obtain days and hours of operation and availability of computer time.
Funeral Homes
Dingmann's Funeral Home - 324 2nd Avenue South, Sauk Rapids, MN, (320) 251-1454 - Information on many grave sites in Benton County.

Foley Funeral Home - 221 2nd Avenue, P.O. Box 307, Foley, MN 56329 (320) 968-7111 - Greg M. Wenner, Owner-Director, Joseph T. Furey, Director.
Government
City of Foley - City Hall: 251 4th Avenue, P.O. Box 709, Foley, MN 56326 (320) 968-7260.

City of Gilman - City Offices: 10371 Golden Spike Road., Gilman, MN (320) 968-6293.

City of Sartell Web Site - Sartell began as a small river town relying on lumber and a paper company for its existence. One of the first settlers of the community was Joseph B. Sartell who arrived in 1854 who worked as a millwright at a local sawmill. In 1877 Joseph B. Sartell opened a flour mill on the Watab River, near the present day Watab Creek Park, and in 1884 he and his sons started the Sartell Brothers Lumber Company.

City of St. Cloud Web Site - Located on the banks of the Mississippi River, just 60 minutes northwest of the Twin Cities of Minneapolis and St. Paul. The name "St. Cloud" was chosen to reflect the area's French heritage, being named after a suburb of Paris, France. Today, the area is a center for education and retail, and is one of the state's popular destinations for recreation and tourism.

City of Sauk Rapids - City Offices: 115 2nd Avenue North, Sauk Rapids, MN (320) 251-1103.
Libraries
Benton County Law Library - 531 Dewey, P.O. Box 189, Foley, MN 56329 (320) 968-6254.

Great River Regional Library - 1300 W. St. Germain St., St. Cloud, MN 56301 (320) 650-2500. Serving the residents of Benton, Morrison, Sherburne, Stearns, Todd, Wright Counties and the City of St. Cloud, Minnesota.

Foley Branch - 251 N. 4th Ave., P.O. Box 340, Foley, MN 56329-9732 (320) 968-6612.

Minnesota Geneological Society Library, 5768 Olson Memorial Highway (Highway 55) in Golden Valley. The location is on the service road on the north side of Highway 55 and just west of Highway 100. Library hours are: Wednesdays, Thursdays and Saturdays, 9:00 am to 3 pm, and Tuesdays and Thursdays 6:30 to 9:30 pm. The library's phone number is (612) 595-9347. Polish collection is here. Polish night is the second Thursday of each month from 6:30 to 9:30 pm. One of our exprienced genealogists is there to assist you with your research problems on these nights. Come and make use of this service and check out the library's new facilities.

Minnesota Library for the Blind and Physically Handicapped, Highway 298, P.O. Box 68, Faribault, MN 55021-0068, Catherine Durivage, Director (507) 333-4828, Fax: (507) 332-4832
Media
Tri-County Broadcasting, Inc. 1010 2nd Street North, Sauk Rapids, MN 56379 (320) 252-9367.
Museums & Galleries
Benton County Historical Society and Museum - The Benton County History Museum has available for research a number of sources of information available for those wishing to research family history. A number of people have donated a lot of information. They have files of information that cover a great number of people by surnames. Some of the surnames that they have extensive information on include Artig, Baskfield, Bjurnstrom, Bolinski, Bosworth, Brennan, Droplewski (Dropps), Dziuk, Forschen, Fromelt, Kaproth, Latterell, Lewandowski, Maymen, Mendel, Misho, Pekarek, Peschl, Rofidal, Russell, Sowa, Studer, Wilson, Wippich, Wood and Youso.

Other holdings include census on microfilm both Federal and state, Benton County Veterans Census, Benton County Naturalization Records. Newspapers: "Benton County Independent" (1901-1933), "Benton County News" (1945-1984), "Benton County Review" [Rice] (1908-1911), "St. Cloud Democrat" (1856-1866), "St. Cloud Journal" (1873-1869), "St. Cloud Journal Press" (1876-1918), "Sauk Rapids Frontiersman" (1855-1859), "Sauk Rapids Sentinel Free Press" (1903-1930), "Sauk Rapids Sentinel" (1871-1932), "Sauk Rapids Free Press" (1890-1910), "Sauk Rapid Herald" (1940-1984) and the "Watab Revielle" (Jan-Feb 1851).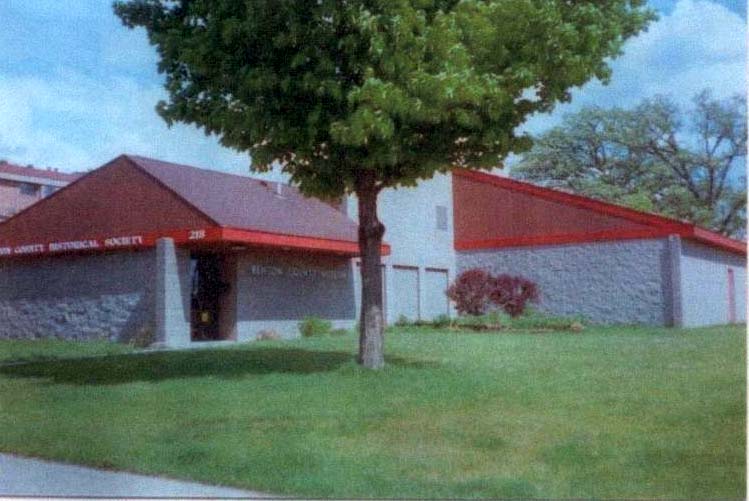 Original books and documents include city directories: St. Cloud / Sauk Rapids (1912-1976 most copies), probate records, Minnesota atlas and maps, Benton County plat maps (1903-1999), scrap books, high school year books for Foley and Sauk Rapids, and Benton County church histories. There are newspaper clippings with obituaries, weddings, births, and anniversaries. Also available gravestone registrations of all county cemeteries up to 1977, family photograph albums, audio history tapes of Benton County, and family history books.
Other historical items include Benton County Ojibway and Sioux history summary, World War II military items, Vietnam War items, first Benton County school bus, wooden farm implements, pictures of the cyclone of 1886 from Sauk Rapids, and pictures of early Benton County settlers.
Anyone is welcome to come and look at the materials we have available. There is no charge for admission, however there is a change for research by staff of $10.00 per hour, $0.10 per copy, plus cost of postage. Workers are volunteers and we would welcome anyone who would like to volunteer sometime. We would also welcome any donations of work on family history that you may have done and would like to make available.
The museum is open Monday through Thursday from 10:00 a.m. to 3:00 p.m. and open the second Saturday of the month between September 1st and March 31st. Our address is 218 1st Street North in Sauk Rapids, Minnesota and the phone number is (320) 253-9614. Mary Ostby is the Executive Director. Please call in advance to verify hours the museum is open. Special appointments can be requested.
Stearns History Museum - The museum houses an extensive research library and archives specializing in German and Luxembourg immigration. Call for current listing of exhibits and programs. Open Mon.-Sat., 10 a.m-4 p.m.; Sun., 12-4 p.m. Closed holidays. Adults, $4; Children $2; Families, $10. 235 33rd Ave. South, St. Cloud (320) 253-8424.
Newspapers
St. Cloud Times - St. Cloud - Online weather, obituaries, directories, specials reports and other links.
Societies
Minnesota Genealogical Society - Classes and webinars on genealogical research, and a research library. Volunteer opportunities, membership, newsletter. Located at 1385 Mendota Heights Road Ste 100, Mendota Heights Minnesota 55120, phone (651) 330-9312.
Translation
Joe Meyer of Germania Tours, Ltd. has established a network of connections in Germany, Austria, and Hungary. He also has a close friend in Warsaw, who has done translation-tour guide work for him in Poland. Joe can be reached by e-mail at germania@newulmtel.net or by calling (507) 359-2660.
Visitors Bureau
St. Cloud Convention and Visitors Bureau - St. Cloud is a thriving Mississippi River city blessed year-round with a wide range of cultural, social, and recreational activities. St. Cloud is the fastest growing metropolitan area in Minnesota. Site includes calendar of events, visitor services, entertainment, lodging, and merchandise pages.