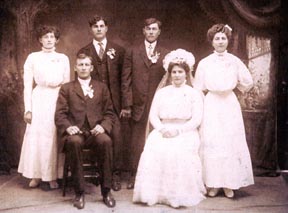 Robert Byzewski and Helen Skaja Wedding (Circa 1909). Robert was the son of Anton Byzewski.
Standing (L to R) Clara (Bible) Kornovich, Mike Kornovich, Joseph Plombon and Pauline Skaja.
Seated are Robert and Helen. Clara and Joseph were first cousins to Robert Byzewski.
Anton Byzewski left Karwia Pomorski Province Poland in the spring of 1872 and came to America on the ship Nemesis. It landed at the port of New York on May 20, 1872. He is listed as being single and 18 years old and was in Steerage. He proceeded to Chicago and along with the Martin Bollman Family moved west to Benton County, Alberta Township. He married Anna Marianna Bollman one of four siblings of Martin and Marianna Biegner who also came from Pomorski Province Poland. The other Bollman siblings Johanna Dorothea Bollman married Frank Kasner (Karchina), Ameila Albertina Bollman married August Kurr and they lived in Sauk Rapids MN in Benton Co.
Anton Byzewski and Anna Marianna had 9 children all born in Benton Co. The oldest Joseph Martin was born in July 09, 1879 in Albert Twp two months after they arrived from Chicago. He married ClaraBelle Johnson and moved to Canada circa 1900 north of International Falls. They had 8 children. One born in the US and the rest in Ontario. He is buried in Fort Frances Ontario Canada.
The second Byzewski child was Bertha Katherine Byzewski born Feb 26, 1881 in Alberta Twp, She married Martin John Dehler whose father Florian V. Dahler was one of the first settlers in the area appearing on the 1860 Fed Census for Alberta Twp, Benton Co MN. They had five children. Of note family has two spellings for the name Dahler/Dehler. Most to the Dehlers settled to the north in Morrison Co in the town of Buckman. On the 1860 census the name is spelt Dahler. Bertha and Martin Dehler are buried in Gilman MN
The third Child born was Robert August Byzewski Jul 22, 1883. Robert married Helen Marie Skaja the daughter of John Skaja and Katherine Klodzinski. They had 14 children. Robert and Helen are buried in Brennyville Cemetery Alberta Township.
The fourth child was Felix E. Byzewski born Feb 22, 1885. Felix was in the service during World War I and was reported sick in the Philippines. He was never heard from again and we assume he died in the South Pacific.
The fifth child was Matilda "Tillie" Byzewski born May 03, 1887 who died of Typhoid fever in 1902 and is buried in an unmarked grave in Gilman MN.
The sixth child was Mary Byzewski born in 1890 and died in 1895 and is in an unmarked grave in Gilman.
The seventh child was Martha Pauline Byzewski born Sep 02, 1891. She married Leo J. Paul Dahler the brother of Martin Dehler. They had seven children. They are buried in the Foley MN cemetery.
The eight child born was Anthony J. Byzewski Dec 19, 1894. He married Anna Pro and never had any children. They are both buried in Fort Snelling Military Cemetery in Minneapolis/St Paul Minnesota.
The last child born was John R. Byzewski in Jul 03, 1899 who married Mary M. Kantor the daughter of Nicolas Kantor and Antonia V. "Tina" Ozechowski. They had 3 children. The are buried in Forreston Minnesota.
My Father Martin Joseph Byzewski was the child of Joseph Byzewski, Anton's oldest child. He was born north of Fort Francis Ontario in Farrington Ontario. I, Martin Cummings Byzewski am the oldest child of Martin Joseph Byzewski. I was born in Dingwall Scotland during World War II.
Martin Cummings Byzewski Byzewski@hotmail.com Warren Minnesota.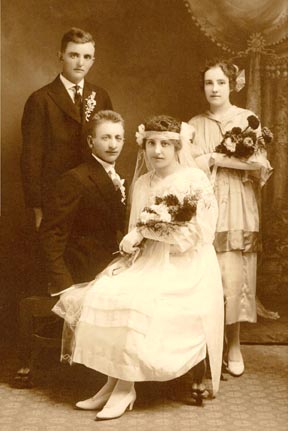 John R. Byzewski and Mary M. Kantor wedding (Circa 1920)